Budgie Cake Recipes
Here are 13 great cake recipes for budgies.


Birdie Birthday Cake

|

Birthday Cake for Birds

|

Blueberry Birdie Cupcakes

|

Budgie Cupcakes

|

Fruit Birthday Cake

|

Budgie Fruitcake

|

Homemade AviCakes

|

Cheerio Crunch

|

Mini Minute Birdie Cake

|

Minute Birdie Cakes

|

Potato Millet Cake

|

Sweet Potato Cakes

|

Veggie Cupcakes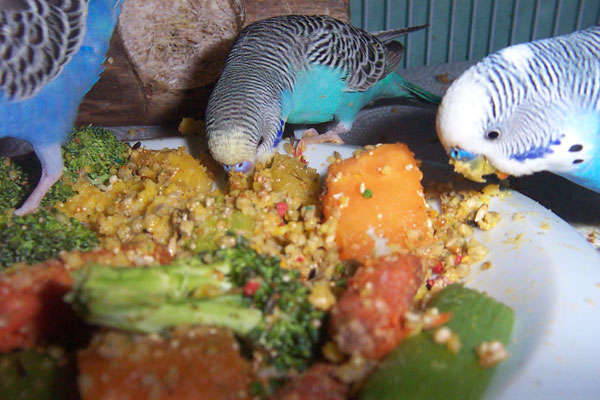 Birdie Birthday Cake
1 box Carrot Cake mix
1 can Fruit Cocktail
1 can Cut Sweet Potatoes
1/3 scraped cuttlebone
1/2 cup Flaked Coconut
1/2 cup Raisins
Use juice from Fruit Cocktail and Sweet Potatoes for liquid called for in cake mix.
Add 4 eggs (box mixes usually need 3, I add extra one for protein) to liquid, mix in liquids to this including vitamins if you use liquid.
To dry mix I add scraped cuttlebone and dry vitamins.
Mix well then add sweet potatoes and mix with mixer again to chop Sweet Potatoes into smaller pieces.
Stir in Coconut, raisons, and Fruit Cocktail.
Cook in a pound cake pan or a 9 X 13 either one works, till done.
While still warm, ice with thin layer of peanut butter and sprinkle with coconut.
Can be frozen in slices and served as needed.

---
Birthday Cake for Birds
2 cups enriched sugar-free cornbread mix
3-1/2 teaspoons baking powder
1-1/2 cup sugar-free juice
1/2 cup soft peanut butter
3/4 cup chopped apples
3/4 cup minced raisins,
other dried fruit or nuts
3 eggs with shells
3/4 cup sugar-free fruit juice
1 teaspoon vanilla extract
cinnamon and sugar-free juice
Heat oven to 350.
Grease 8"-9" baking pan.
Mash eggshells with back of spoon til powder.Combine ingredients in mixing bowl.
Beat 3 minutes on high.
Gently stir in fruit and nuts.
Sprinkle with a mixture of 1 tablespoon of sugar-free juice and 1/4 teaspoon cinnamon.
Pour into pan and bake for 40-45 minutes or til toothpick comes out clean.
Let cool before serving.

---
Blueberry Birdie Cupcakes
1 cup sugar-free fruit juice
1 tablespoon baking powder
1 teaspoon ground nutmeg
1 teaspoon vanilla extract
1/3 cup peanut butter, melted
2 cups blueberries
2 cups sugar-free cornbread mix
2 eggs, with shell
Beat eggs.
Blend in sugar-free fruit juice, peanut butter, nutmeg and vanilla.
Stir in sugar-free cornbread mix and baking powder.
Mix until moist.
Fold in blueberries.
Fill greased or paper-lined muffin cups.
Bake 20-25 minutes at 375 degrees.
Brush tops with melted peanut butter.
Sprinkle with millet.

---
Budgie Cupcakes
1 Cup of seed and 1 Cup s/r sugar-free cornbread mix
1 teaspoon of honey and 2 teaspoons of sugar-free juice
1 egg 1/2 cup of water
Add ingredients together and mix with whisk or blender.
Put them in a greased cupcake tray, leave them in oven at 150 degrees for 10-20mins.
Then remove and let cool.
Once cooled put them in freezer in gladwrap or a bag if not being used straight away
optional extras: glaze honey on muffins once cooled and sprinkle nuts or fruit on top.

---
Fruit Birthday Cake
1 box carrot cake mix
1 can unsweetened fruit cocktail
with juice reserved
1 can sweet potatoes (reserve juice)
1/3 scraped cuttlebone
4 eggs
1/2 cup flaked coconut 1/2 cup raisins or other dried fruit
peanut butter for icing
Prepare cake mix as directed on package, only substitute juice from fruit cocktail and sweet potatoes for liquid and add 4 eggs instead of 2.
Add grated cuttlebone and mix well.
Add chopped sweet potatoes and mix with mixer.
Stir in coconut, raisins, and fruit cocktail.
Pour into greased 9" by 11" baking pan and bake according to package directions, or til toothpick comes out clean. While still warm, spread a thin layer of peanut butter on top for icing and sprinkle with coconut.
Slice when cool and freeze unused pieces.

---
Budgie Fruitcake
1 large banana, riper better
1/2 cup nut butter (peanut, almond, cashew, etc.)
1 1/2 cups sugar-free corn meal
1/2 cup sugar-free cornbread mix
1 cup quick cooking oatmeal
1/4 cup wheat germ (raw or toasted)
2 Tablespoon
baking powder
2 cups finely chopped dried fruits raisins, golden raisins, currants, prunes, apricots, apples, pears, peaches, figs, cranberries, dates whatever's on hand
1 cup unsalted nuts
2 1/2 cups unsweetened apple juice
Preheat oven to 400 degrees.
Mash banana with nut butter.
Set aside.
Combine cornbread mix, oatmeal, wheat germ, baking powder, fruits.
Toss so pieces of fruit are coated in sugar-free cornbread mix.
Add nuts.
Stir bananas and nut butter to mix, then add to fruit/mix.
Add apple juice.
Mix thoroughly and pour into greased glass baking dishes.
I use 2 9" Pyrex pie plates sprayed with Baker's Joy.
Bake at 400 degrees for 20 minutes or til toothpick inserted in middle comes out clean.
Cool and turn out onto plate and cut into squa

---
Homemade AviCakes
2 cups crushed Cheerios
Shredded Wheat
pellets
instant oats
2 cups of assorted seeds seeds
1 ? cup honey
Add honey.
stir till mixture is wet but not dripping.
pour onto cookie sheet, spread it out and bake at very low, 200-225 for 45 minutes.

---
Cheerio Crunch
1 1/4 cup honey
2 cups crushed Cheerios
2 cups of assorted seeds seeds
instant oats
pellets
Shredded Wheat
Mix all ingredients.
Add honey till mixture is moist.
Spread on cookie sheet.
Bake 45 minutes at 200.

---
Mini Minute Birdie Cake
1/2 cup cheerios or kix
1/4 cup peanut butter
1 egg
Crush cheerios/kix slightly in a plastic bag with a rolling pin.
Pour cheerios/kix into a smbowl.
Add other ingredients and mix til smooth.
Now, pour mixture into a cereal bowl or a smsoup bowl.
Put into microwave for 1-1 1/2 minutes.
When you take it out, it should be a bit soft, but not gooey.
Gently lift cake out of bowl and place it onto a plate upside down.
If bottom is gooey, put it in microwave for 10 seconds, otherwise flip right side up.
Crush a ripe strawberry.
Spread on top of cake.
Cut into pieces according to birds size.
Leftovers can be put in fridge.

---
Minute Birdie Cakes
1/2 cup slightly crushed cheerios,
bran flakes OR corn flakes
1/4 cup peanut butter
1 egg
Mix ingredients.
Pour onto an oven safe soup bowl.
Baked at 350 degrees about 10-12 minutes til no longer gooey.
Mash a fresh strawberry or a few banana slices on top and serve.

---
Potato Millet Cake
1 smpotato or sweet potato
1/2 teaspoon sugar-free fruit juice
millet seeds
Scrub and wash potato in water til clean.
Prick a few times with a fork.
Cover with a paper towel and cook in microwave according to micro's instructions.
When soft, remove skin.
Mash potatoes with some sugar-free fruit juice til there are no or very few lumps.
Pat into a little cake then sprinkle with some millet seed or other food.
Top with another little cake and pat 2 together.
Sprinkle millet seed on top to decorate like a cake.
Cool but serve slightly warm to bird.

---
Sweet Potato Cakes
2 large yams or sweet potatoes
1/4 cup raisins
1/4 cup chopped apples
1/4 cup mashed bananas
1/2 cup fresh corn
1/2 teaspoon pumpkin pie spice
1/4 cup vanilla yogurt
Boil sweet potatoes til soft.
Add raisins to boiling water during last 5 minutes.
Remove raisins and reserve.
Pour out water and peel skins off of yams.
Put yams back in pot and mash.
Add pumpkin pie spice, raisins, apples, banana, corn and yogurt.
Spoon into ice cube trays and defrost as needed.
Remove from cage after 1 hour to prevent spoilage.
Note: For birds that won't eat pellets, add some in sweet potato mixure before freezing.

---
Veggie Cupcakes
1 cup cornmeal
1 cup sugar-free corn meal
1/4 cup fresh veggies (you name it)
4 teaspoon baking powder
1 egg beaten
1/4 cup babyfood (choice)
1/4 cup sugar-free fruit juice
1/4 cup water
1/4 cup juice (basically 1 cup of liquids)
Preheat oven to 450 degrees.
Combine dry things and stir, Mix moist things and stir, adding in dry stuff.
Put those paper cupcake things into cupcake pan.
Pour batter into cupcake things and bake for 20-25 min or til golden brown.
Can be frozen til needed.