Budgie Food
Recommended Budgie Food
---
Recommended Budgie Seed Mixes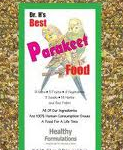 Our Best Parakeet Food is a wonderful blend of nuts, fruits, seeds, vegetables, herbs and bee pollen made specifically for parakeets. This blend is so plentiful in vitamins and minerals and the appropriate amount of protein, that it takes the guesswork out of feeding your parakeet.
Order Dr Harvey's Best Parakeet Food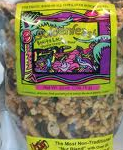 All natural bird seed, fruits and nut blend. Human-grade quality ingredients that you can actually pronounce. Freshest, most delicious-smelling bird food available.
Order Goldenfeast Bird Food
Recommended Budgie Pellets
Be sure to get the smallest size - for budgies (crumbles, mash). Pellets are taken best when soaked in sugar-free fruit juice and bleneded into a mash with their favorite seeds and fruits & veggies. Budgies will rarely eat from a bowl of plain dry pellets.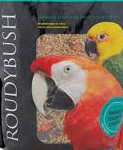 Specially steam-pelleted food designed to retain beneficial nutrients while eliminating harmful bacteria. Give your birds the nutrition they need with no artificial colors or flavors and no animal by-products.
Order Roudybush Crumbles
Harrison's Bird Foods is a family of certified organic, formulated diets that were created by avian veterinarians and top avian nutritionists with the health of your bird in mind.
Order Harrison's Pellets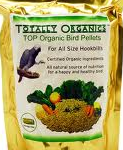 100% Certified Organic Ingredients: Rice, hulled millet, barley, alfalfa leaf, sunflower seed hulled, sesame seeds unhulled, quinoa whole, buckwheat hulled, dandelion leaf powder, carrot powder, spinach leaf powder, purple dulse, kelp, rose hips powder, rose hips crushed, orange peel powder, lemon peel powder, rosemary whole leaf, cayenne ground, crushed red chili peppers, nettle leaf. No artificial anything. No sucrose/sugar added.
Order Totally Organic Pellets
Recommended Budgie Packaged Cooked Food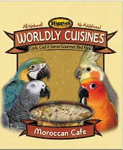 The eight exotic cuisines contain wholesome ingredients like sea kelp, organic couscous, basmati rice, papaya, apples, cranberries, lentils, dates, tomatoes, anise, ginger, organic quinoa and more!
Order Higgins Exotic Cuisine
Budgie food health requirements for budgies, list of foods *not* to give budgies, budgie food recipes, and recommended seed mixes, cooked mixes, pellets...
How to Get your Budgie to Try New Foods
Make a Bird Mix
Patience and persistance is key in trying to get your budgie to try new foods. It may take a few weeks for them to figure out that the new weird thing isn't going to eat them. A great way to get them to try new foods is to give them a "mix" every day - filled with fruits & veggies & pasta & seeds & pellets soaked in fruit juice, all chopped up fine. A mix will always look pretty much the same so you can pop new & interesting foods in there & the budgies won't be scared of it.
Make Food a Fun Toy
Another trick - for leafy greens & such, is to make them seem like a toy - make them fun - weave the leaves through the bars of their cage, or hand them down over perches. Put leafy greens in a shallow bowl filled with clean water. As they bathe, they will nibble on the greens. Soon, they will get super excited when you bring leafy greens into the room. My guys favorites are dandelion greens, carrot tops & kale.
Health Requirements
fresh organic fruit
fresh organic veggies
sprouted seeds
seeds
whole grain pasta and breads
pellets (crumbles, or crushed and soaked in a mix)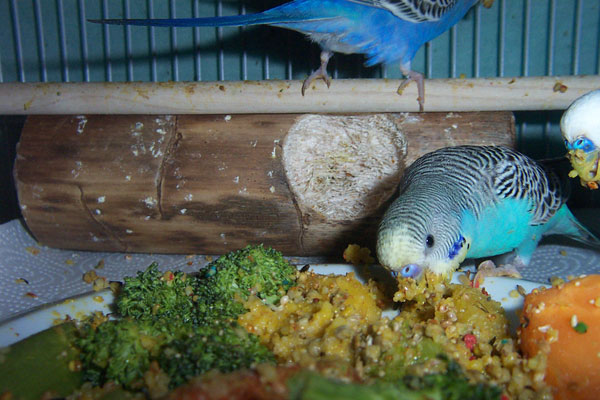 These Foods are Good for Budgies
acorn squash
alfalfa
almond butter
almonds
anasazi beans
apple blossoms
apple juice
apples
applesauce
apricots
baby food
Bag O' Bugs
bananas
barley
barley grass
beans
bee pollen
bell peppers
black beans
blackberries
black-eyed peas
blueberries
bok choi tops
bran
brazil nuts
bread
broccoli
brown rice
brussel sprouts
buckwheat
butternut squash
cantaloupes
cardamom
carrot
carrots
cashew butter
cashews
cauliflower
cayenne pepper
celery
cereal
chard
cherries
chick peas
chillis
cinnamon
clementines
coconuts
collard greens
corn
cornmeal
cottage cheese (give dairy only occassionally, in small amounts)
couscous
cracked corn
cranberries
cumin seeds
currants
curry
cuttlebone
dandelion greens
dates
eggs
Eight Grain Cereal
english muffins
fava beans
figs
flax seeds
fortified cereals
fruit
fruit juice
garbanzo beans
ginger (ok in small amounts)
grapefruits
grapes
green beans
green chilies
green lentils
green peas
green peppers
grits
guavas
hazelnuts
honey
hot chili peppers
hulled barley
hummus (non-garlic)
jalapeno peppers
kale
kamut
kelp
kiwis
leafy greens
lemons
lentil sprouts
lentils
lime juice
limes
long grain brown rice
macadamia nuts
macaroni
mangos
mealworms
millet
mint
mixed nuts (no peanuts)
mulberries
multi-grain bagels
mung beans
navy beans
nuts
oat bran
oatmeal
oats
orange juice
oranges
oregano
palm oil
papayas
paprika
parmesan cheese (give dairy only occassionally, in small amounts)
parsley
pasta
peaches
peanut butter
pears
peas
pecans
pellets
peppers
pine nuts
pineapple juice
pineapples
pinto beans
pistachios
plums
pomegranates
popcorn
poppy seeds
prunes
pumpkin seeds
pumpkins
quinoa
raisin bran
raisins
raspberries
red beans
red pepper flakes
red peppers
red tomatoes
rice
rice cakes
roasted red peppers
romaine
rosemary
rye berries
sage
sesame seeds
spaghetti
spirulina
sprouts
squash
star fruits
strawberries
sunflower seeds
sweet bell peppers
sweet peas
sweet potatoes
tahini
tangerines
textured vegetable protein
thyme
tortellini
tortillas
violets
walnuts
wheat berries
wheat germ
wheatgrass
whole bran cereal
whole grain cornmeal
whole wheat flour
whole-grain bagels
wild rice
winter squash
yams
yogurt
zucchini
DO NOT give these foods to your budgies
alcohol
apple seeds
apricot seeds
avocado pits
avocados
bean plant leaves
caffeine
canned veggies
cherrie seeds
chocolate
cocoa
coffee
eggplant
fruit pits
fruit seeds
mushrooms
non-organic fruits & veggies
nutmeg
onions
peach seeds
peanuts
pear seeds
plum seeds
potato leaves
raw dry beans
rhubarb
salt
sugar
tea
tomato leaves
tomato stems
tomato vines
Also Avoid:

aerosols
air fresheners
brass
cage bedding
cage litter
candles
cleaners
febreeze
glass beads
grit/gravel
halogens
lead
mite protectors
pens
perfume
potpourri
sand perches
scented tissues
teflon/non-stick cookware
tobacco
My Budgie's Favorite Recipe
My Budgie's Favorite Recipe : Ingredients
1. oat groats
2. A budgie seed mix whose first couple ingredients DO NOT include millet or oat groats (Dr Harvey's Best Parakeet Seed or canary mix)
3. winterberry
4. quinoa
5. egg food
6. kamut
7. peas
8. corn
9. pellets
10. zucchini
11. broccoli
12. red pepper flakes (if baby food is veggies)
13. cinnamon (if baby food is fruit)
14. blueberries
15. soy beans
16. rye
17. spelt
18. flax seeds
19. Organic sugarfree baby food: veggies or fruit
My Budgie's Favorite Recipe : Directions
You can get the grains cheap in bulk at a store like WholeFoods. Put pellets in a bowl and add enough water to cover. Microwave for 20 seconds until mush. Add other ingredients in casserole dish. Stir well and serve. Make sure food has cooled appropriately. We make up a casserole dish of budgie mix a couple times a week and store it in the fridge.
My Budgie's Favorite Treat: Super Coconut Bowls
My Budgie's Favorite Treat : Ingredients
1 whole coconut
1 jar of mango baby food
½ cup whole oat groats
½ cup blueberries
½ cup quinoa
6 two-inch long pieces of carrot greens
My Budgie's Favorite Treat : Directions
Cut coconut in half and remove milk. In mixing bowl, combine baby food, oat groats, blueberries, and quinoa. Stir well, but not vigorously, the blueberries should remain whole. Fill coconut halves with mix. Top each half with 3 pieces of carrot greens. Serve fresh. Feeds a small flock.
Free Budgie Food Recipes Cookbook
Hundreds of heathy simple recipes for yummy food you can make for your budgies at home!
Beans, Birdy Bread, Breakfast, Cake, Cookies, Dinner, Egg Food, Fruit and Vegetables, Hand-Feeding Formulas, Muffins, Pasta and Rice, Pizza, Pudding and Custard, Seed Mixes, Treats
Free Budgie Food Recipes Cookbook