Budgie Cookie Recipes
Here are 11 great cookie recipes for budgies.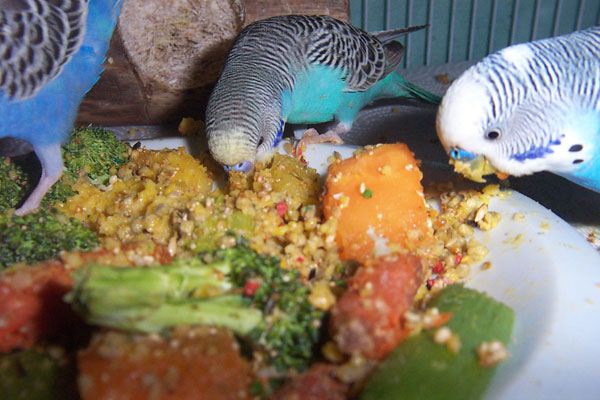 Almond Cookies
1/2 cup of:
roasted pine nuts
flaked almonds
seasame seeds
sunflower kernels
sugar-free cornbread mix
Mix, add about a tablespoon of good quality olive or other organic oil and one or two eggs to make a firm dough.
You can add other nuts if you know they are safe for cockatiels and a little more sugar-free cornbread mix to help form cookies.
Shape into sm cookies, and bake about 12 minutes til very lightly golden brown.
Allow to cool, and store in refrigerator in an airtight container.
Wedge it between cage bars.
Applesauce Cookie Bars
1 egg, with shell
1 jar carrots baby food
1 jar diced apples baby food
1 jar mango dessert baby food
1 jar oatmeal and apples cereal baby food
1 jar squash baby food
1 jar sweet potatoes baby food
2 jar macaroni and cheese baby food
3 bottles banana/yogurt juice baby food
4 Boxes Jiffy Cornbread Mix
4 jars applesauce baby food
Mix ingredients.
Pour into pan.
Bake at 350, until done.
Spread applesauce as icing.
Cookie Delight
2/3 cup Honey Nut Cheerios, crushed
2 eggs, scrambled
2 avian-seed-cakes, crumbled
2 tablespoons pellets, crushed
1/8 teaspoons of baking soda
3 tablespoons of sugar-free cornbread mix
Pre-heat oven to 350.
Crush cheerios and pellets.
Scramble the eggs.
Mix ingredients.
Place spoonfulls onto cookie sheet.
Bake 16 minutes.
Crunchy Cookie
Nuts, shelled and ground (recommend walnuts and pecans)
sugar-free corn meal
sugar-free cornbread mix
water
(optional: food coloring, fruit juice)
Grind nuts very fine, and mix with about a quarter to a half cup of sugar-free corn meal.
Stir in a few tbss of sugar-free cornbread mix.
Add enough water to make a very dry, stiff dough (it doesn't take much!); knead for a minute or two.
Break off tbs-sized pieces and roll each out flat and thin.
Bake on a hot, unoiled, cast-iron skillet, flipping occasionally.
DO NOT cook on a non-stick pan.
cookie is done when it begins to turn gold-brown with some black spots.
Cool and serve.
Options: Add a few drops of red or blue food coloring to tint cookie.
Replace some of water with fruit juice to sweeten, and cook on a lower heat.
Fruit Cookies
1 cup dried fruit (any of birds favorites-i.e.
apricots, apples, figs, dates, coconut, etc.)
1/2 cup uncooked oatmeal
1/2 cup raisins
1/4 cup hulled seeds and/or crushed nuts (I use sunflower seeds, cashews, peanuts, and walnuts)
1 tablespoon peanut butter
2 tablespoon honey
In a food processor, process ingredients together except for honey and peanut butter.
You will have a sticky glob to put into a medium size bowl.
Add peanut butter and honey and stir til it gets too thick.
Then use hands to knead rest to a 'rollable' consistency.
Make 1/2 inch balls and place them on a cookie sheet.
Bake at 350 for about 20 minutes.
Cool and serve.
They are quite delicious (you'll like them too), and they're just right size for my Scarlet Macaw,' Coconut', to hold.
Fruity Cookies
3 tablespoon oil
3 large egg white
2 cup sugar-free corn meal
1 1/2 cup instant oats
1 teaspoon cinnamon
1 teaspoon baking soda
3/4 cup thawed frozen apple juice concentrate
1/4 cup thawed frozen pineapple-orange concentrate
1/2 cup chopped walnuts or pine nuts
1 package Sun Maid Fruit Bits
Beat egg white and oil til frothy.
Add juice and blend.
Add sugar-free cornbread mix, oats, baking soda, Petamine, and cinnamon and blend well.
Stir in walnuts or pine nuts and fruit bits.
Place teaspoonfuls on cookie sheet and bake at 350 degrees for 10 minutes.
Mash Cookies
1 peeled, cubed sweet potatoe
1 peeled, chopped apple
1 egg
cinnamon
1 teaspoon vanilla
2 tablespoon dried parsley
1 cup almonds
chopped veggies
Cook sweet potato.
Cool.
Add apple, egg, some cinnamon, vanilla, dried parsley.
Grind almonds fine in blender.
Add whatever other chopped veggies etc.
Mix should be consistancy of cookie dough.
Drop onto greased cookie sheet with teaspoon.
Bake 12 minutes at 350.
I divided 'dough' into three portions, added some chopped walnuts to one part, some coconut to one part, and stirred some extra spices (nutmeg, ginger) to third part, so had three 'kinds' of cookies from one batch.
Bobber doesn't like almonds in mixed nuts that I get, so I have been pulling them out and those were what I ground up to thicken dough.
You could use whatever kind of nuts that are not 'favorite' at house.
Oatmeal Cookies
1 Cup Soft peanut butter
2 Eggs
1 teaspoon Soda
4 teaspoon Cinnamon
2 Large Baby food jars of applesauce
1 smbox of raisins (optional)
Mix ingredients well.
By hand add 3 cups rolled oats.
It will be stiff.
Drop by spoonfuls onto greased pan.
Bake til golden brown.
Parrot Cookies
(all organic ingredients)
1 can mashed sweet potato
half bag frozen mixed veggies
steamed chopped carrots
handful chopped arugula
a few almonds crushed into smithereens
a few dashes of cinnamon
handful of finely chopped apple
chopped jalapeno
1 cup cooked couscous
a couple blobs of plain yogurt
half a mashed banana
Mix together, plop on to wax papered cookie sheets and stick in the freezer. Thaw as needed.
submitted by Rowan
Peanut Butter Cookies
1/3 cup oats
1/3 cup peanut butter
1/3 cup sugar-free cornbread mix
1/4 cup crushed pellets
1/4 cup raisins
2 eggs
Pre-heat oven to 350.
Mix ingredients.
Place spoonfulls onto non-greased cookie sheet
Bake for 10-25 minutes.
Veggie Cookies
1 large jar of baby food fruit or veggies
1/2 cup of sugar-free corn meal
1/2 3/4 cup of corn meal
2 teaspoon protein powder
1/2 cup crushed pellet
1 carrot, finely shredded or chopped dried fruit
1/4 cup seeds
Mix ingredients except seeds, til very thick Add more corn meal and sugar-free cornbread mix as needed til mixture pulls away from sides of bowl.
(Sticky, thin dough won't bake well) Add seeds last.
Roll tablespoons of dough into 1 inch balls then flatten with to form 1/2 inch thick circles.
Place on lightly greased cookie sheet.
With toothpick, make a hole in center of each cookie.
Bake at 350 degrees F, 20-25 minutes or til slightly browned.
Flip over when half done.
Cook then store in an airtight bag or container.