Budgie Toys
Budgies need many different kinds of toys! Look for toys with bells, spinning things, anything with mirrors, swings, ladders, and soft wood or paper that they can chew or shred.
My bubs especially love great "activity-oriented" bird toys. These toys get your little guys brains churning - often to figure out how to get some treat (foraging toys) or they have nice bells that are fun to wear as hats or make your squawks loud & echoey.
Guys, we have bought nearly every budgie toy in existence.
Some toys the birds love and play with incessantly and some they just ignore. On this page, I've listed the toys that the budgies really loved and played with constantly. I hope your guys will have as much fun with these bird toys as our budgies did!
Remember, don't just give your keets the tiny bird toys made specifically for budgies - some of the bird toys made for larger parrots can be just as fun for budgies! Just make sure they're safe - ie: don't have parts that budgies could get their heads stuck in, but a bigger bird couldn't.
Also, remember, parrots love to chew and need to chew to keep their beaks healthy! They need toys that they can shred and chew on and destroy! We've heard horror stories of poor little budgies who spent their days without toys to play with because "they just destroyed them"! Well, yes, they should! That's what they do! A budgie without different toys to play and engage their intelligent mind with will quickly become bored and may turn to destructive behavior like destroying furniture or feather plucking.
Budgie Toy Safety Tips:
Make sure to trim any frays or strings from toys so that budgies don't get their toes caught in them. Make sure no strings or anything a budgie could get their head caught in is hanging down from the top of the cage.
If you have a happy hut, inspect the inside frequently to be sure the bird is not chewing/injesting the fur on the inside. This could cause crop impaction.
Our Flock's Favorite Toys
Here are our budgie's' favorite toys.
Activity Toys: Climbing, Swinging, Fun
Kabobs, Pinatas, Shredders, Oh My!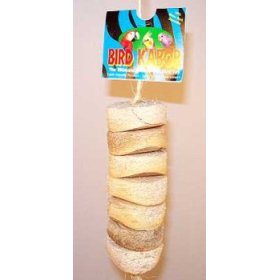 Balsa Kabob Shreddable Bird Toy
Pictured: Skye budgie & her kabob! Anything a budge can chew or rip to shreds or otherwise destroy (kabobs, pinatas, shredding weaving ribbons, etc). Nothing better than some soft balsa wood to chew up! (Well maybe wet carrot sticks with the carrot tops still attached! Her beard turns bright orange when she's been shredding carrot sticks.)
Mirrors!
Our guys go nuts for anything with a mirror. & yes, they'll still play with the other birds & with you, even if they have a mirror-buddy.
Homemade bird toys
Are you a budgie parent on a budget? Don't worry, you don't need to dig under the couch cushions for coins to keep your little dudes entertained! First things first, let's talk about toys. You don't need to spend a ton of cash on fancy toys for your budgie. In fact, you probably have a bunch of stuff lying around the house that your budgie will love to play with. Here are some tips and tricks for keeping your budgie entertained without breaking the bank:
Get your DIY on: Budgies love to chew. It's like a hobby for them. Get in on the action and make your own chew toys for your little feathered friend. All you need is some cardboard, paper, and a trusty pair of scissors. And boom - you're in business. Now, you can go the simple route and just make a plain ol' paper ball. But where's the fun in that? No, no, no. You've gotta think outside the box here. Why not get creative and make a cardboard birdhouse for your budgie to tear apart? Or how about a paper airplane? Budgies are natural foragers, so create a foraging area for them. Fill a tray with a mixture of their favorite treats and toys and let them search for treasure. The sky's the limit (or at least the ceiling of your budgie's cage).
Repurpose household items: Budgies're like little kids. They're always curious and they love to play with new things. It's like they're never satisfied with the same old toys. So, instead of breaking the bank on fancy bird toys, why not look around your house for some items you can repurpose as budgie toys? Think about it - a toilet paper roll can make a great chewable tube. And an empty water bottle? That can make a killer rattle. The options are endless, as long as you use your imagination. Just make sure that whatever you give your budgie to play with is safe for them to chew and play with. You don't want your little fluffbutt getting hurt or ingesting something they shouldn't. Trust me, it's not worth the risk. Take a look around your house and see what kind of creative toys you can come up with. Your budgie will thank you (or at least chirp at you excitedly).
Keep it safe: the most important thing is safety. You don't want your budgie getting hurt, so make sure the materials you use are non-toxic and bird-safe. And no sharp or small objects, okay? You also want to make sure the toys are well-constructed, so they don't break or fall apart while your budgie is playing with them. But here's the thing, your budgie is going to love helping you make these toys. They're curious and intelligent, so they'll enjoy being a part of the process. You can give them small pieces of the materials you're using, or let them help you assemble the toys. For example, give them a piece of cardboard to chew on or let them help you tie a string to a toy. Just make sure to supervise them while they're helping and keep an eye out for boredom or distress.
Play with your budgie: Keets are like little people. Okay, not really, but they are social animals. They love interacting with their human friends. We don't have to break the bank on expensive toys to keep them entertained. All we have to do is spend some quality time with our little feathered peeps. So, what can we do to play with our budgies? Well, a simple mirror can do the trick. Just hang it in their cage and watch them go nuts trying to play with their reflection. Or, if you're feeling extra creative, why not make a DIY finger puppet? It's easy, it's cheap, and it'll keep your budgie entertained for hours. Just make sure to keep an eye on your budgie while they're playing. And if you notice any signs of boredom or distress, it's time to switch things up. You don't want your little tweet getting fed up with the same old toys.
Make it fun: You want to know how to make your budgie toys fun, huh? Well, here's the deal. You want to make sure you've got a variety of textures, colors, and shapes in there. That way, your budgie's senses will be stimulated and they'll stay entertained. And here's a tip - add some bells, mirrors, dinosaurs, mini maracas, balsa wood, sola balls, shreddy stuff, or other interesting features to the toys. That'll make them even more engaging and fun.
Keep it fresh: Ever noticed how easily budgies get bored? It's like, they need constant entertainment or they just lose their minds. That's why it's important to keep their toys fresh and interesting. You know what I mean? Just make sure to switch up the toys every now and then and offer them new stuff. And hey, if you're feeling crafty, you can even make your own DIY budgie toys and switch those out too. Trust me, it'll keep your little dubbins entertained and engaged.
Give your budgie a bird-safe treat: A budge loves treats. I mean, who doesn't? But here's the thing: not all treats are safe for them. Those sugary snacks and processed treats that we love? Yeah, not so much for our feathered friends. What can we do to give our budgies a treat that's actually good for them? Well, one option is to offer them a small piece of fresh fruit or vegetables. They'll love munching on some sliced apples or shredded lettuce. Or, if you're feeling extra creative, why not make your own bird treats using bird-safe ingredients? Here's a simple recipe: mix some cooked rice and mashed veggies, and roll the mixture into small balls. Voila! You've got some tasty (and healthy) treats for your budgie to enjoy. Just make sure to always offer treats in moderation. You don't want your budgie too pudgie. Here are a bunch of my guys favorite budgie treat recipes.
Set up a DIY bird play gym: Parakeets love to climb, swing, and perch. It's like they're little monkeys or something. Set up a DIY bird play gym for them to enjoy. All you need is some sturdy branches (make sure they are pesticide-free (or free from other toxic materials), ropes, and other bird-safe materials, and you've got yourself a little slice of birdie heaven. Of course, safety is key. Make sure that the play gym is secure and that your budgie can't get hurt while they're playing. And as always, supervision is a must. You don't want your little muffin getting into any mischief while you're not looking. But other than that, the sky's the limit (or at least the ceiling of your budgie's cage). Get creative and set up a fun and challenging playground for your feathered friend. They'll love it, and you'll get a kick out of watching them have a blast.
Toys My Keets Didn't Care For
This thing just scared the holy cannoli out of them.
Discontinued Favorite Bird Toys
Maybe you can get lucky and find something similar?