Budgie Dinner Recipes
Here are 17 great dinner recipes for budgies.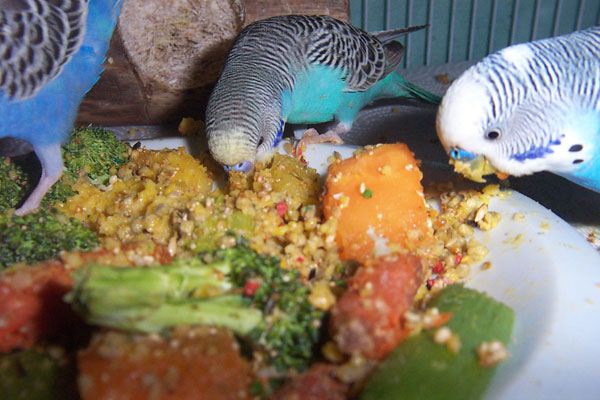 Lake's Budgies Favorite Food of All Time
1 Organic Baby summer vegetables and rice baby food (zucchini, broccoli, carrots, peas) or Earth's BestSummer Vegetable Dinner
1 Earth's Best organic pear and mango baby food
1 cup of pellet mush (add water and heat for 1 minute)
1 cup Dr. Harvey budgie seed mix
1/2 cup blueberries
1 bag Trader Joe's soycatash (corn, soybeans, and peppers)
1/4 cup flax
1/4 cup egg food
1/4 cup oat groats
1/4 cup winter berries
1/4 cup kamut
1/4 cup quinoa 1 healthy tablespoon of red pepper flake (for spice!)
the pellets go in a bowl and water is poured on them enough to cover them
then the bowl of pellets and water is heated for 1 minute forming a hot mush
the mush is then mixed with the frozen blueberries and soycatash, thawing the latter and cooling the former so that it all turns into an eatable temperature
then the babyfood is mixed in
and then the red pepper flake
all that is mixed together thouroughly
and then the rest of the dry ingerediants are added
everyone is pigging out
star loves it
he is very excited
this is a huge hit
especially with henry
i've never seen him so obsessed with his food
it was hard to pull him away
he tried to shoo me away at first when i tried to get him out of the cage.
Coupons and Discounts for organic baby food
A Different Bird Food
2 cups or seed or pellets
mixed nuts for birds
coconut
dried fruits
1 large cuttlebone
1/2 sprig of millet
3 tablespoons sesame or unsalted sunflower seeds
2 Townhouse crackers
Put ingredients into a plastic bag.
Put that plastic bag in another plastic bag.
Put that on a cutting board and put a towel over it.
Take a hammer or a meat tenderizer and pound it.
Keep lifting towel to check.
When you see a powdery substance on seeds, that means its done.
You do not want seed to be hulled.
Bird Sandwich
1 slice whole wheat bread
1 jar vegetable baby food
chopped veggies and nuts
Spread baby food on bread about 1/8" thick.
Add chopped nuts and/or veggies.
Salsa variety: mix tomato, carrot, and broccoli baby food together and spread on bread.
Add chopped pepper, lettuce, and almonds on top.
Birdie Lunch
1 part smred beans
1 part hulled millet
1 part lentils
1 part brown rice
1 part chopped walnuts
Cook beans, millet, lentils, and rice and mix together with walnuts.
Add any other additions you think of such as egg, carrots, etc.
Freeze and thaw in microwave.
Birdie Pot Pie
1 jar baby food carrots
2 or 3 hard-boiled eggs, chopped (depending on size of bird or how many birds you have)
1 or 2 six inch sticks of celery, cut up very very fine
1 teaspoon bird seed
1/2 teaspoon millet (off stick)
1 teaspoon 'vegetable' bird seed
1/4 teaspoon parsley
1 pot pie crust
Take crust and warm it in microwave til lukewarm.
Set aside.
In a bowl mix baby food, eggs, celery and parsley.
Microwave til warm.
Then pour bird seed (every kind) in and mix.
If nessasary, heat mixture and/or crust again.
Pour mixture in crust, then top crust with crust lid.
Bake in oven til light brown.
Set on rack to cool.
Serve at room temp.
Birdy Thanksgiving Dinner
1 sweet potato or
1 large jar baby food sweet potato
1 cup frozen corn
1 cup frozen peas
1/2 cup chopped walnuts
1 hard-boiled egg
1 cup chopped cooked turkey
Mix ingredients together and warm in microwave for approximately two minutes.
Ingredients that are to be used in own Thanksgiving meal can be used such as substituting or adding broccoli, squash, etc.
Just be sure to set aside a smamount BEFORE you add salt, sugar or other seasonings.
Appropriate seasonings like garlic and/or cinnamon may be added.
Pieces of leftover cooked rolls or cornbread could also be added.
Budgie Coconut Mash
Blend:
one apple1 cup mixed organic veggies (peas, carrots, broccoli, cauliflower)1 sprig millet1/2 cup water
Pour into halved coconut shell and serve!
Carbo Munchie Delight
pasta.
spaghetti
carrots and/or brocolli (chopped finely)
frozen vegtables (thawed)
fresh fruits chopped finely or medium fine
garbanzo beans and/or black beans frozen(thawed or canned drained and rinsed out)
vitamin supplement or baby bird handfeeding formula(kaytee)
optional: any other goodies (chopped nuts, hard boiled eggs, peppers, etc.)
optional: baby food
Make about an amount bird(s) will consume in a week or less.
Boil pasta and spaghetti till cooked enough.
While its cooling off, add beans, then finely chopped carrots and/or broccoli to mix so it will release some vitamin K as well.
After it has cooled, add some goodies you want in it (hard boiled eggs, chopped nuts,etc.) Add fresh chopped fruits (apple, banana, grape, etc.), baby bird handfeeding formula, vitamins, and/or baby food.
Mix ingredients well together.
Use hands to break pasta and sphagetti into smaller chunky pieces, or put in a blender to mash it up.
Roll them into 1 inch balls, addin
Easiest Bird Food
2 hardboiled eggs
1-2 cup(s) raw carrots (chopped)
1 jar gerber baby food (preferably applesauce)
blend eggs and carrots well.
After blended, mix jar of baby food in.
Let chill in refrigerator 1-2 hours.
Serve in food dishes.
Garnish with molting food or millet.
Hollywood Dinner
Various grains (wild rice and millet or brown rice and quinoa)
Nutritious veggies (sweet potato, carrot, red pepper, kale, broccoli, etc.)
Thawed frozen beans (any kind)
Fresh parsley (optional)
A pinch of cayenne pepper and garlic powder (not garlic salt)
A tiny pinch of Spirulina powder (optional)
Cook grains til they are ready.
In a mini-chopper or a food processor, grind veggies and beans into tiny little pieces (to make a mash).
Once grains have cooled down, mix in veggies.
Add spices and mix well.
Serve warm.
I Yam What I Yam
2 Medium/Large Yams
1/4 cup Raisins (unsulphured)
1 teaspoon peanut butter (optional-but does have things a bird needs!)
? teaspoon Pumpkin spice
? cup Corn
1/4 cup Nonfat Yogurt (preferably organic)
Cut yams into quarters then boil til soft.
Drop in raisins for last 5 minutes of boiling.
Cool.
Peel off skins.
Put peeled yams back in pot and mash, adding peanut butter and pumpkin spice.
Add back raisins and corn and mix into yams.
Serve in glass bowls for maximum visual stimulation.
Put a dollop of nonfat yogurt on top of each serving.
Warning: Do not leave this food in cage for more than 2-3 hours, especially on a hot day.
Mashed Potatoes
3 large yams or white potatoes
1-2 tablespoons sugar-free fruit juice
1 teaspoon peanut butter
1 smcarrot(for white potatoes)
Peel and boil potatoes (and carrot) in water til soft.
Add a bit of sugar-free fruit juice and peanut butter.
Roll with hands, individual small balls.
Wrap each bin plastic wrap and freeze in plastic bag.
Thaw a few seconds in microwave as needed.
Do not serve too hot.
Remove from cage after 1 hour to prevent spoilage.
Parrot Stew
1/2 cup, can 15 bean (no seasoning)
1/2 cup mixed veggies
1/2 cup tri-colored pasta
1 corn from a cob-optional
3 tablespoon barley
2 carrots diced
10 spinach tortellini
10-15 dried cherry peppers
1/2 teaspoon cinnamon
1/2 can chicken broth
1 cup water
Dice carrots and slice corn off of cob.Combine ingredients in large saucepan.Simmer til liquid is almost gone.
Cool and freeze in ziplock bags.
Protein Food
1 tablespoon of green gram
1 carrot
1 cucumber
1 tablespoon coriander
half leaf romaine lettuce
4-8 frozen peas
4-8 frozen corn
any beans (optional, soak overnight)
cuttlebone (to scrape powder)
Put gram in a cup or mug filled with water, microwave for 1 and 1/2 minutes.
Meanwhile, grate carrot and cucumber.
Squeeze out excess water from cucumber.
Chop coriander and romaine lettuce finely.
Quarter peas (carefully !!), chop/mash beans.
Drain water from gram and put in grinder (maybe its called blender in usa) and grind it to fine powder.
Mix everything in an airtight container for storage later.
Scrape cuttlebone with a sharp knife.
Apply pressure or else it will merely rise up in air as dust.
Mix it well.
Serve to birds.
Store in freezer for later use.
Soft Food Mix
dry shelled whole corn or popcorn
dried beans
large bag of brown rice
raisins
currants
shelled sunflower seeds
shelled pumpkin seeds
wheat berries
barley
whole oats
pasta
nuts
and cinnamon
cloves or ginger
frozen garden peas
frozen fruits (cranberries)
Soak overnight half a large stockpot of dry shelled whole corn or popcorn.
Bring to a boil and cook over low heat next morning for several hours, or til corn is plumped and soft in middle.
Water will need to be added several times as it is absorbed by corn, which more than doubles in volume.
Also, soak overnight choice of dried beans: garbanzo beans (chick peas), kidney, cranberry, pinto, lima, northern, chili, black beans or others.
Cook next morning for an hour or less or til 'al dente'.
Cook rice for approximately thirty minutes.
Combine ingredients in a large container or clean sink.
Mix and allow to cool.
Seal in plastic bags in daily portions, press flat for faster thawing.
Sweet Potato Soup
1/2 can vegetable broth (add water to cover potatoes this isn't a brothy soup)
approx.
1 cup sweet potato
1/4-1/2 firm tofu
1"x1" piece ginger minced
1/4 cup corn
1/4 cup whole wheat pasta
cinnamon, clove, allspice to taste
Cook till sweet potatoes are somewhat mushy.
Ultimate Birdie Surprise!
1 (32 oz) bag 15 bean mix
1 cup Black Beans
1 cup Anasazi Beans
4 cups long grain brown rice (converted perferred)
1 cup couscous
2 cups Rottelle Vegetable pasta
2 cups Basil/ lemon pepper
pasta spirals
2 cups jalepeno redpepper pasta (ziti type, or whatever is available)
2 large jars of gerber Vegetable Beef baby food
1 tablespoon Spirulina
3 tablespoon Palm oil
Soak beans overnight.
At least twelve hours.
Drain and rinse well.
Put into a large stock pot and cook 45-60 min or til al a dente.
Rinse lightly with cold water to stop cooking process.
Set aside.
Cook coucous in 1 1/2 cups of water for 5 minutes.
Fluff with fork.
Stir into bean mixture.
Cook Pasta til Al dente, drain into strainer, run under cold water, shake off excess water , add to bean mixture.
Cook rice til firm, add to mixture.
Stir in both jars of baby food, palm oil, spirulina.
Let cool and put into 1/2 cup serving size bags.
Freeze immediately.