Budgie Egg Food Recipes
Here are 11 great egg food recipes for budgies.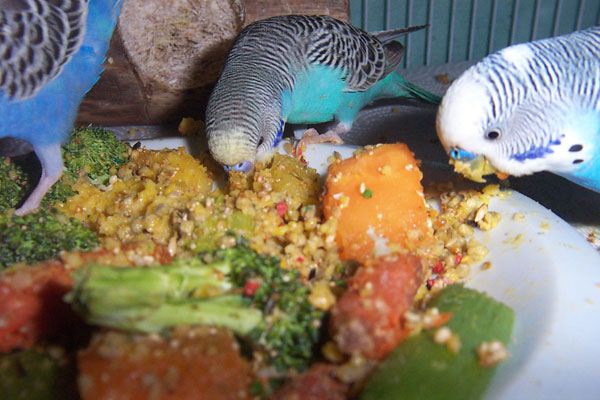 Birdie French Toast
Several pieces of day-old multigrain whole wheat bread
4 eggs (no shells)
2 tablespoons plain or vanilla yogurt
Beat eggs with yogurt, then dip bread in mixture coating
well.
Cook on skillet as you would regular French toast.
These pieces can be used immediately, or can be refrigerated or frozen for later use.
Take warm toast (either fresh cooked or toasted) and spread with a thin layer
of chunky peanut butter and sprinkle with raisins and/or chunks of walnut.
Cut into small pieces and serve warm.
Birdy Quiche
1/2 cup Beans or bean mix
1/2 ear of corn, cut off cob or equivalent amount of frozen corn
2 tablespoon squash (any kind) chopped into 1/2" cubes
1/2 smsweet potato (or yam) cooked and cut into 1/2" cubes
1 jalape?o pepper, chopped
1 clove garlic, minced
1 egg (or egg substitute)
1 tablespoon skim Ricotta cheese
small amount of mixed veggies, fresh or frozen
Soak beans for 1 hour before preparing.
Drain.
Mix of above in a bowl.
Should be pasty consistence, but not runny.
Add water if necessary.
Spread on plate, and cover.
Cook in Microwave on High for 6 minutes.
Remove and break up with fork.
Sprinkle vitamins and mix well.
grate cheese on top
Egg Food
2 carrot grated finely
2 hard boiled eggs
1/4 teaspoon Cayenne pepper
3 tablespoon Bag O' Bugs
Mix ingredients well.
Store in refrigerator
Green Eggs and Ham
Eggs (scrambled or boiled)
bacon bits
Spirulina
Parmesian cheese
grits
Scramble or chop eggs.
Add bacon bits.
Sprinkle Spirulina and cheese.
Toss with dry grits just enough to keep from being sticky.
If you can't find grits, use cornmeal.
Microwave Omelets
egg
carrots
green beans
broccoli
sweet peas
corn
romaine
parsley
apple
pasta
pellets
Cook egg completely.
Scramble egg with a fork in a microwave safe bowl.
Then put frozen or fresh vegetables in a mini food processor and mince fine.
Veggies need to be tiny or won't be soft before egg is done.
Add veggies to eggs then microwave uncovered.
Start checking at 30 seconds, adding 10 seconds til cooked through.
Omelet
1 egg
3 tablespoon finely chopped carrot (I have to cut it smto hide it from her)
1 tablespoon riccotta or cottage cheese
1/4 cup beans any kind (not refried) black are her favorite
1 splash of sugar-free fruit juice to mix it
3 tablespoon chopped each (green pepper, broccoli, sweet corn)
Use any vegetables you have at time, to add a few new ones besides corn.
Mix above ingredients together and microwave in a bowl for a couple minutes.
Don't use stove.
Quiche for Budgies
1/2 cup beans
1/2 ear of corn,
2 tablespoon squash, chopped
1/2 small sweet potato, cooked, chopped
1 jalapeño pepper, chopped
1 clove garlic, minced
1 egg
1 tablespoon skim Ricotta cheese
mixed veggies
Soak beans 1 hour.
Drain.
Mix all ingredients.
Add water, as needed.
Cook on high microwave for 6 minutes.
Sprinkle on vitamins.
Mix well.
(You add grated cheese on top if you like.)
QuickEgg Treats
1 extra-large hard boiled egg white
1/2 of hard boiled yolk
1/4 cup favorite vegetable diced finely
Mash 1 extra large hard boiled egg white with a fork.
Add 1/2 hard boiled yolk and mash together.
Place in toaster oven for a short time to heat up and decrease wetness.
Add 1/4 cup of favorite veggie on top, but do not mash into egg.
Serve when cool.
Remove from cage after 30 minutes.
Sweet Eggs
eggs
cinnamon
vanilla
maple syrup
Spray non-stick vegetable spray in a pan.
Mix eggs with a small dash of cinnamon and a dash of vanilla.
Scramble in pan till cooked.
Add small dash of maple syrup, cool and feed to all.
Toast and Eggs
2 pieces whole wheat toast
2 eggs finely ground
1 finely ground apple
1 teaspoon Bag O' Bugs
Mix ingredients together and serve in a crumbly mixture.
Store in refrigerator.
Vegetable Egg Treat
1/2 jar of each baby food, carrots, sweet potatoes and green beans
5 hard boiled eggs
1 cup of seed mix
Extra Millet Seed
Mash hard boiled eggs very fine.
Add 1/2 jar of baby foods.
Mix well.
Add seed ( both varieties).
Mix well.
Let cool 10 minutes.
Serve to bird in small amounts.
Remove and discard after 1 hour.