Budgie Fruit and Vegetable Recipes
Here are 54 great fruit and vegetable recipes for budgies.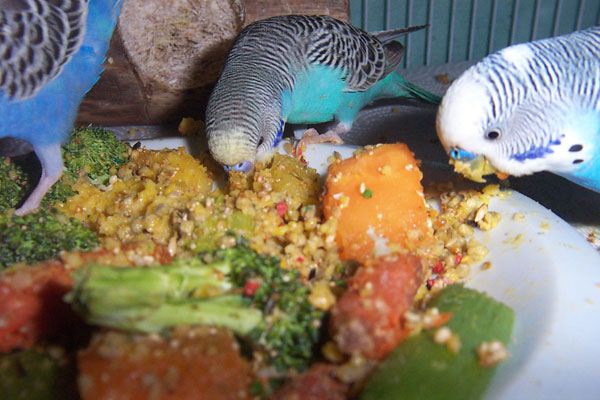 Aerielle's Birdie Frooty Fruit Salad
Guava, apple, pear or any fruits of choice.
Chop up fruits into palatable pieces excluding seeds of pear and apple.
Toss pieces together and take out what you are going to use, then freeze.
sprinkle with 1 eighth teaspoon of lemon or lime juice.
Ambrosia
1 apple, grated
1 banana, sliced
1 cup strawberries, diced
1 kiwi, diced
1 pear, diced
2 oranges, peeled
20 seedless grapes, quartered
Mix all ingredients and serve.
Apple Delight
4 sm apples
2 Tablespoons wheat germ
2 Tablespoons raisins
1/4 teaspoon cinnamon
1/4 cup chopped pine nuts
1 cup thawed frozen apple juice concentrate
Avian vitamins
Core apples.
Put apples in baking dish after spraying with non-stick coating.
Do not use teflon.
It gives off harmful fumes that could kill birds.
Combine wheat germ, raisins, cinnamon, pine nuts, and vitamins.
Fill center of apples with this mixture.
Drizzle juice over apples.
Bake about 45 minutes.
Baked Carrot and Apple Casserole
2 cup sliced carrots
5 apples, cut into 1/4 inch slices
2 tablespoon sugar-free corn meal
4 tablespoon honey
4 tablespoon peanut butter
3/4 cup orange juice
2 tablespoon Avian vitamins
Preheat oven at 350 degrees.
Put half apples in a shallow 1-quart baking dish and cover them with half carrots.
Sprinkle with one tablespoon sugar-free cornbread mix and one tablespoon avian vitamins.
Drizzle two tablespoonfuls of honey over sugar-free cornbread mix.
Dot with two tablespoons of peanut butter.
Repeat layers.
Pour orange juice over entire mixture and bake for 40-45 minutes.
Dish out into one inch squares.
Let cool and place in plastic bags to freeze.
Bean, Rice and Veggie Mix
2/3 cup mixed dried beans (kind sold for bean soup)
1/4 cup birdseed
1/4 cup cracked corn
1 very large acorn or butternut squash (about 3 cups cubed)
1 smapple
2/3 cup cooked pasta
2-3 large leaves collard greens
1/8 cup almonds
1/8 cup alfalfa pellets
1/3 cup grapes, peaches, or other fruit
1 or 2 tablespoon chili powder
1 teaspoon cinnamon
3 tablespoon parmesan cheese
1 packed cup cooked rice
1 package frozen green peas
fruit juice
Soak beans, cracked corn, and seed in a bowl of water overnight.
Then boil beans, seed, and corn for 20 minutes or so, til cooked.
If you're using microwave, make sure to use plenty of water.
They absorb a lot while cooking.
Remove core and seeds of apple and cut into a few pieces.
Cut squash into cubes.
Squash seeds do not need to be removed, they are very nutritious.
Boil apple and squash for 10 to 15 minutes or til very soft and mushy.
squash skins can be pulled off and discarded.
Combine beans
Birdie Goulash
frozen vegetables
beans
pasta
rice
Thaw a bag of frozen vegetables.
While they are thawing, start cooking beans (different types on different days), biggest first, and adding smaller ones that need to be cooked less.
When they're done, cook pasta (and/or rice — brown and/or white — whatever I have) and add it to mix of veggies and beans.
You can use an ice tray and put individual servings in each 'cube' so they can be thawed and used as needed.
Birdie Juice
Use aprox. 1" cube of birdie favorite fruits and vegetables (at least 5) and water.
Mix ingredients in liquidizer.
Shake them til they are a juice.
Refrigerate.
And if you want, drink it with bird.
Nutritious and delicious.
My parrot likes it so much.
Birdie Salad
3 pieces of celery
2 cherry tomatoes
4 pieces of lettuce
Cut, mince and or shred celery, carrot and lettuce.
Put into a bowl add tomatoes and mix.DO NOT give this to bird at once!
Spicy Birdie Salad
1 apple cut up into pieces of different sizes
1 jalapeno pepper (light green) cut into strips
1 carrot peeled and cut into different sized pieces
Assorted sizes of broccoli and cauliflower
A few strawberries cut into half
Wash foods and cut them up and put in a bowl.
Then offer bird different shapes, sizes and colors.
Of course this is only a smvariety of foods you can use but, it is a bit of everything!! Bananas also work well sliced up into it! Nuts may work too!!
Birdie Soup
1/4 cup fresh/washed veggies (choice-finely chopped)
1-3 hard boiled egg(s) finely chopped
1 jar baby food (veggies-choice)
1/4 ground-up mineral block
Any type parakeet seed (bird's fave)
Take a microwave-safe bowl and put fresh veggies in.
Do same with egg.
Carefully dump ground-up mineral block in.
Heat baby food til warm and put it in.
Put in microwave for 1 min.
or til warm.
Let cool til lukewarm, then carefully dump seed in.
Serve (NOT TOO HOT!).
Birdie Veggie Pita
corn tortillas
can of corn
eggs
white or wild rice
romaine lettuce
any other veggie
Cook egg (scrambled style), rice and corn.
Wrap tortilla in a cloth towel and microwave for 15-20 seconds.
Lay tortilla on flat surface and put egg in middle with corn, pieces of lettuce, rice and veggies.
Fold one end over and then sides to form an envelope.
Place on plastic plate and give to birds.
Birdy Brunch
2-3 eggs.
1 cup frozen veggies
Whole bag of minute rice
1 12 cups of noodles
Boil eggs boil for at least 30 min.
Boil rice as instructed on box.
Let noodles boil till soft.
Then cut up eggs, and put them in a bowl with rice, and noodles.
Then add veggies and stir.
Serve to birds and freeze remainder.
Birdy Pot Pie
1 can cream of potato soup
1 cup sugar-free fruit juice
1 cup mixed veggies
1/2 cup Bisquick mix
2 eggs
Preheat oven to 400.
Mix soup and veggies.
Pour into greased 9 1/2" pie pan.
Bake 20 minutes, until top is golden brown.
Brown Rice and Veggies
brown rice
mixed veggies
Cook 1 cup brown rice according to package directions.
Allow to cool and add 1 pound mixed veggies.
Toss and freeze in plastic bags.
I double recipe and use 1 pound regular mixed vegetables (peas, green beans, corn, limas, carrots) and 1 pound of stir-fry vegetables (asparagus, brocolli, cauliflower, sugar snap peas, bell pepper greater variety, better).
I have smbirds as well as large birds, so I use a heavy knife and chopping board and break frozen veggie pieces into smaller ones before I mix them in.
Brown rice is eaten by pickiest of birds, and if you have trouble getting veggies into bird, you can process frozen vegetables almost to a puree and mix with rice.
If they like rice, they generally will not turn it down because of vegetable flavor.
Carrot and Apple Bake
2 cup chopped carrots
5 apples, cut into slices
2 Tablespoons sugar-free corn meal
4 Tablespoons honey
4 Tablespoons peanut butter
3/4 cup orange juice
Avian Vitamins
Put apples in a 1-quart baking dish and cover them with carrots.
Sprinkle vitamins over apples and carrots.
Drizzle with honey.
Pour orange juice over entire dish and bake at 350 degrees for 40-45 minutes.
Carrot Salad
1/2 cup pine nuts, chopped
1/2 pound carrots cut into chunks
1/2 cup raisins
Avian vitamins
Mix ingredients together.
Sprinkle with vitamins.
This can be stored in refrigerator for further use.
Celery Crunch
Green leafy vegetables
1/4 cup of puffed rice
1/4 cup cornflakes
3-4 tablespoons of honey
1/8 cup minced celery
15 nuts (optional)
Add rice, cornflakes, honey and nuts mix well til moist but not dripping.
Knead into small balls and wrap 2 leaves around mixture leaves are to make introducing fresh vegetables easier.
Suggested green leafy vegetables, Romaine lettuce, kale, spinach leaves.
Cranapple Cookies
3 tablespoons vegetable oil
3 large egg whites
2 cups sugar-free cornbread mix
1-1/2 cups quick cooking oats
1 teaspoon baking soda
3/4 cup apple juice concentrate
1/4 cup cranberry juice
1/2 cup chopped walnuts
2 cups chopped dried apples
1/2 cup enriched bird seed
Beat egg white and oil til frothy.
Add thawed apple juice concentrate and cranberry juice, blending well.
Gradually add sugar-free cornbread mix, oats and baking soda.
Mix til well blended.
Stir in walnuts, dried apples and bird seed.
Drop by rounded teaspoonfuls on to cookie sheet.
Bake for 10 minutes and cool on a wire rack.
Refrigerate in Ziplocs or freeze and thaw as needed.
Cranberry Apple Drops
3 tablespoons Oil
3 large Egg Whites
2 cup sugar-free cornbread mix
1-1/2 cup quick cooking Oats
1 teaspoon Baking Soda
3/4 cup Apple Juice Concentrate, thawed
1/4 cup Cranberry Juice Cocktail
1/2 cup chopped Walnuts
2 cup chopped Dried Apples
Preheat oven to 350.
Beat egg white till frothy.
Add juices, blend.
Add sugar-free cornbread mix, oats and baking soda.
Mix til well blended.
Stir in walnuts and dried apples.
Drop by rounded teaspoonfuls onto cookie sheet.
Bake for 10 minutes.
when cool freeze or store in airtight container in fridge.
Dried Apples
3 5 sm Delicious apples, cored but unpeeled
3 t.
lemon juice
2 cup water
Cut apples into 1/8" thick pieces (keep thickness at 1/8" but you can vary size of piece depending on size of bird).
Combine lemon juice and water.
Pour over mixture over apples.
Stir so sides of slices are well coated.
Drain slices.
Lightly sprinkle millet on both sides of apple slices.
Place apple slices on wire racks that sit on cookie sheets or baking pans (to catch drips.)
Bake at 200 degrees F. for 3 1/2 4 hrs.
Start watching them after about 3 hrs.
You want them leathery, not crispy.
Leaving apples in oven, turn off oven and leave overnight or about 8 hrs.
Store in ziplock bags til needed.
Frooty Fruit Salad
Guava
apple
pear
any fruits of choice
Chop up fruits into palatable pieces excluding seeds of pear and apple.
Toss pieces together and take out what you are going to use, then freeze.
I find that my budgies like guava, apple, and pear recipe best.
Budgies will chow down on a salad of about 1 litre of salad sprinkled with 1 eighth teaspoon of lemon or lime juice.
Frozen Fruit Surprise
1. birds favorite fruits.
2. A blender.
3. An ice cube shaper thing, and a freezer
Okay, so now you take birds favorite fruits, say, banana and apple with a little cranberry.
Take about 1/4 of fruit and put it aside for now.
Put rest in a blender, and blend til smooth.
If it doesn't smooth out as much as you want, you may even add water.
Put it in ice cube shapers, and drop some small, chopped pieces of fruit you saved into each 'cuber'.
Freeze til frozen.
When frozen, take them out and give them to bird, so they can have a frozen fruity treat with some surprise pieces of fruit inside!
Fruit Ambrosia for Birds
2 medium oranges peeled
1 sm banana
20-30 seedless grapes
1 cup strawberries
1 sm apple
Wash, scrub and rinse fruit well to remove pesticides and chemical fertilizers.
Cut pieces into sizes appropriate for bird.
Gently mix together.
Sprinkle with some coconut or walnuts.
May be frozen and thawed as needed
Fruit and Nut Bar
2 Large eggs
1/4 cup walnuts
1/4 cup raisins
18 ounce Box corn bread
1/3 cup cranberry juice
1/4 cup applesauce
1/2 cup mixed vegetables, defrosted, and chopped fine
1/2 cup chopped broccoli
Preheat oven to 400*
In a large bowl, stir together, eggs, applesauce, cranberry juice, mixed vegetables and broccoli.
Add corn bread mix a little at a time.
Stir til well combined.
Stir in raisins and walnuts.
Pour batter into well greased 8-8" pan.
Bake for 20 minutes.
When cool, cut into squares and store in an airtight container in refrigerator.
Fruit and Nut Cake for Birds
2 eggs
1/4 cup chopped walnuts
1/4 cup raisins
18 ounce box cornbread mix
1/3 cup cranberry juice
1/4 cup applesauce
1/2 finely chopped carrots
1/2 cup chopped broccoli
Preheat oven to 400 degrees.
Stir together eggs, applesauce, cranberry juice and vegetables.Add cornbread mix and stir til well blended.
Stir in raisins and walnuts.
Pour into well greased 8-8" pan.
Bake 20 minutes.
When cool, cut into squares.
Store in Ziplocs bags in refrigerator or freeze and defrost as needed.
Fruit and Veggie Popsicles
1 apple
1 carrot
1 orange
several grapes
1 tomato
1 green pepper
Any other fruits and veggie bird might eat
Put ingredients on a cutting board and dice them finely (except for orange).
Place ingrdients in a bowl.
Cut orange and squeeze (over bowl) til it is out of juice.
Pack ingredients into a band stick in a wooden popsicle stick.
Wrap with wax paper and put in freezer.
Let it sit for an hour.
Fruit and Veggies Sauce
Sugar-free Baby food with bananas (Bananasauce)
Sugar-free Baby food with apples (Applesauce)
Sugar-free Baby food with potatoes (Potatosauce)
Sugar-free Baby food with carrots (carrotsauce)
Dried and wet fresh fruits and vegetables like bananas, coconut, carrots etc., .(any fruits and veggies that are NOT toxic to birds).
Nuts and seeds (Not toxic to birds)
You can use any of those baby foods listed.
You can combine baby food or just use one.
No cooking involved.
Do not cook.
Put baby food into a bowl and mix it with fruits, veggies, seeds and nuts and it is ready to serve.
Make sure you don't leave it out for more than an hour because it will spoil (This happens with fresh fruits and veggies and baby food).
Fruit Smoothies
birdies favorite fruit
Dice into small pieces and remove any toxic seeds (apple, pear, cherry pits etc).
Put into blender or food processor and mix til almost liquid but some chunks still remain.
Put mixture into ice cube trays (for smaller birds you can buy smice cube trays) and put into freezer til frozen.
Fruit Sorbet
1 cup strawberries
1 apple, peeled, cored and chopped
1 orange, peeled, seeds removed
1 banana, peeled
Put ingredients in a blender or food processor.
Blend til pureed.
Spoon into ice cube trays and freeze.
Serve frozen fruit cubes to bird as a treat.
Fruit Toast
toast
egg biscuits
sunflower seeds
loose millet seeds
banana
Cut up dry toast into tiny pieces.
Crumble up egg biscuits and add a few sunflower or loose millet seeds.
Mash up half a banana and mix together.
You can add any fruit or vegetable to this and it can be served warm if bird prefers.
Fruity Cupcakes
1 -1/2 cups sugar-free cornbread mix
1 teaspoon Baking soda
1 teaspoon Cinnamon
2 Egg whites — whipped
1/2 cup sugar-free juice — packed
1/4 cup Applesauce — room temp
1 teaspoon Vanilla
3/4 cup Apples; peel — chop finely
3/4 cup Cranberries — chopped
Preheat oven at 350 F.
Prepare 12 muffin pans with cooking spray and sugar-free cornbread mix.
In a mixing bowl, combine sugar-free cornbread mix, baking soda, and cinnamon.
In another mixing bowl, combine egg whites, sugar-free juice, applesauce, vanilla, apples, and cranberries.
Mix dry ingredients with wet ingredients just til moistened.
Use an ice cream scoop to fill muffin tins 2/3 full.
Bake 20 to 30 minutes, or til lightly browned.
Yield: 12 servings.
Freeze muffins and defrost as needed.
Fruity Ice
several types of fresh fruits, any combination, diced into pieces.
Puree fruits in blender or food processor til smooth and mixed.
Pour into ice cube trays, and freeze til solid.
Keep frozen, stored in freezer containers or plastic bags.
To serve, remove 1-2 cubes per bird, thaw slightly.
Fruity Ice Smoothie
3 handfuls any type of fruit bird likes(can be a mixture of fruits, my bird likes apples, raspberries, and strawberries)
1 cup fruit juice
Put fruit juice and fruit in a blender and blend completely on high.
Freeze half of mixture in an ice cube tray-put other half in a container and keep in refrigerator.
When first half of mixture is frozen, crush in either a slushy maker or wrap it in a towel and bash it with a rolling pin.
Put crushed portion into a dish or cub, and add refrigerated portion.
Mix and serve to bird!!!
Fruity Summer Treat
Fruit juice
Apples
Mango
Pear
Carrot
Freeze fruit juice.
In mean time, cut fruits into smpieces.
Take out fruit juice when it is 70% frozen.
Put fruits into juice.
(There should be more fruits than juice).
Serve.
Grains, Pasta, and Veggie Mix
1 cup several different grains.
Cook separately so there will be many flavors.
1 cup cooked pasta (orzo) roughly chop several hot peppers into cooking water.
1 cup brown rice cook with 1 tablespoon of cinnamon.
1-2 chopped onions boil a couple of minutes drain
Add several of following:
broccoli steamed lightly and chopped
small bag of frozen sweet peas don't thaw
small bag frozen sweet corn don't thaw
toasted sunflower kernels
chopped nuts
dried cranberries, blueberries, cherries
mango, papaya or other dried fruits chopped
variety of beans cooked separately, seasoned with a head of garlic chopped or a handful of green or red hot peppers roughly chopped
Package into baggies in 3 day portions, about maximum time it is safe in refrigerator.
Remaining baggies can be stored frozen for an indefinite period.
Hawaiian Sweet Potato Polenta
sweet potatoe
1 cup pineapple-orange juice
2 cups water
1 cup corn meal
? cup tabouleh (cracked bulgar wheat ? optional)
Bake, boil or microwave an 8 ounce
sweet potato; cool enough to handle, peel and mash, but don't puree.
Bring to a rapid boil pineapple-orange juice and water.
While stirring, gradually pour in corn meal.
Reduce heat to low and stir til it thickens.
Remove from heat and stir in tabouleh) and sweet potato.
Mix thoroughly.
Pour into glass baking dish (9" Pyrex pie plate) and refrigerate til set firm.
Cut into squares and freeze.
Honey Fruit Treats
1 cup seed mixture or millet seeds
1-1/2 cups natural pellets
(Small or large depending on bird)
Seeds and pellets are optional use one, other, or both.
1/2 cup dried cranberries
1/4 cup shredded coconut
2 tablespoons walnuts
chopped for size of bird
*1 tablespoon almonds
honey as needed
sugar-free cornbread mix as needed
Preheat oven to 350 degrees.
Combine seeds and pellets in a medium bowl.
Chop cranberries, coconut and walnuts in food processor for smto medium pieces.
Add fruit and nut mixture to seeds and combine in a larger bowl.
Add honey, 1 tablespoon and increase by 1 teaspoon til firm.
Sprinkle 1 tablespoon sugar-free cornbread mix on mixture and.
knead, adding more sugar-free cornbread mix as needed.
Roll out flat on lightly greased cookie sheet or put in muffin tins.
Bake five minutes.
Cool til room temperature.
Serve with fresh fruit and veggies for a lovely birdie meal! May be frozen and defrosted as needed.
Juicy Fruit
1/2 cantaloupe
1 bunch seedless grapes
1 large orange
Cut cantaloupe into pieces birds can handle.
Peel orange and cut into pieces.
Mix together with grapes.
This mixture can be frozen in bags and served daily.
Multi-Salad
spinach
pasta (spaghetti or macaroni type)
rice
coriander
Any and every kind of fruit bird likes
dill
frozen corn (boil 2 minutes)
Frozen Peas (boil 2 minutes)
mushrooms
celery
carrots
broccoli
beans (soaked over night)
anything else that seems healthy for birds!
Slice above to thin, smpieces (you can also use a food processor to cut these pieces).
Then boil rice, pasta, beans, peas and corn for a few minutes.
Let these cool and add to salad.
Nutriberries
1 cup dried fruits of choice
2 tablespoon Coconut
1/2 cup Old fashioned Oatmeal, uncooked
1/4 cup any seed mix of choice
1/4 cup pellets of choice
2-3 Tablespoon creamy peanut butter
2 lge. tablespoon honey or Molasses
Blend or put in food processor 1st 3 ingredients and blend well.
Add rest of ingredients—it will be sticky.
Roll into various size balls of preference…and uses wet hands, it makes it easier to roll balls together.
Bake at 325 degrees for 15-20 min.
depending on oven.
Check at sooner time to make sure they do not brown, just set.
put them on parchment paper on cookie sheets instead of greasing them.
Cool and put in airtight jars.
Papaya Crunch
1 cup dried papaya pieces
1 cup uncooked oats
2 tablespoon honey
Place above items in food processor til you have coarse pea-sized crumbs.
Mix enough of favorite seed mix, dried fruits, nuts, etc., to make it stick together.
Flatten mixture onto a cookie sheet.
Bake on 200 for 1 1/2 hours.
Cut into squares (serving size) and loosen from pan.
Cool then seal in a ziploc bag.
These treats get hard and crunchy and my tiels like them MORE than store bought cruchy treats.
Parrot Stew
1 corn cob, slice niblets off
1 cup water
1/2 cup 15 bean soup (no seasoning)
1/2 cup mixed veggies
1/2 cup tri-colored pasta
1/2 teaspoon cinnamon
10 spinach tortellini
10-15 dried cherry peppers
2 carrots, diced
3 tablespoon barley
Mix all ingredients.
Simmer in pan until liquid almost gone.
Peanut Apple Bombs
3 tablespoon peanut butter
4 tablespoon oats OR
birds favorite seeds
Raisins
Dried apricots
1 apple
Spread oats or seeds on a smplate and mix with raisins and apricots.
Peel and core apple.
Cut 1 slice then chop apple.
Mix chopped apples with oats/seeds.
Mix in peanut butter well then shape into a ball.
Put apple slice in center then sprinkle with more oats/seeds till not sticky.
Seed-Banana
1/4 to 1/2 banana
bird's favourite seeds
(optional) any fruits/veggies.
1.cut 1/4 to 1/2 banana.
2.cover banana with seeds(it doesn't matter if it doesn't stick on banana, as long as there's some seed on it then it's ok).
3.(optional)add different pieces of fruits/veggies.
Spinach Salad
fresh spinach, rinsed and dry well
bird seed
14 cup honey
!4 cup plain or vanilla yogurt
fresh fruit or veggies
nuts
Chop spinach, fruit, veggies and nuts very finely and put into a bowl.
Next add hunny, yogart, and seeds.
Then mix ingrediants together and bake at 500 degrees F for 15 min.
Finally take out and enjoy!
Strawberry Ice Cream
1 cup strawberry puree
1 pouch Gelatine
1/4 cup water
Pour 1 pouch gelatine over puree.
Add 1/4 cup boiling water and stir constantly til completely dissolved.
Pour into ice cube container and put in frig til set.
Serve…..
Sweet Potato Puffs
sweet potato
1/3 ripe banana
jar of baby fruit
jar of baby vegetable
1 cup frozen peas or corn
1/3 cup of natural peanut butter
cinnamon
grape nuts cereal
Cook one large sweet potato in microwave on high for 8 to 10 minutes or til very soft.
Split skin, and scoop out flesh.
Mash it up well in a large bowl.
Add very soft, ripe banana, being sure not to use any part of banana that has brown spots.
Add jar of any baby fruit and jar of any baby vegetable.
Add frozen peas or corn.
Add natural peanut butter.
Add a little cinnamon.
Mix it up well.
It will be a sticky mess at this point, but it will roll up into balls, or you can also use an ice cream scoop.
Pour out some Grape Nuts cereal onto waxed paper, then roll each bin cereal til it is well covered.
Put them into a container and then into freezer.
put three at a time in microwave, set it on defrost for about 45 seconds to one minute.
Be sure that they are warm clear through, as swee
Tango Mango Fruit
1/2 cup fruit
1/2 cup on another fruit
1/2 cup of a 3rd fruit
Put three fruits in a blender or food processer.
Mix til it's soft.
Drain mixture til you have of chunks of fruit out.
Tropical Fruit Dish
1 slice kiwi
1 cut cube watermelon
1 sliced grapes
? egg hard-boiled egg
? egg shell
Mix ingredients (look at chart below) except egg shell together in a food bowl.
Chop egg shell very finely with a fork.
Sprinkle egg shell on top of fruit mix.
Veggie and Egg Mix
1 large egg
2 tablespoon low fat ricotta cheese
1/2-1 cup bean mix (cooked up previously, mix of beans, rice, pasta, etc)
1/2 cup of some or of following: diced fresh zucchini, diced yellow squash, diced turnip, diced parsnip, cooked sweet potato, chopped spinach, fresh corn, chopped green pepper.
also, in season, a whole jalapeno pepper, chopped.
if lacking fresh veggies, use frozen corn, lima beans, peas, etc.
if we have leftover pasta, that goes in, too, and finally one large clove garlic, chopped.
Mix in a bowl, then spread on a large plate, covered, and microwave for 7-8 minutes (8 if using frozen veggies).
egg holds it together.
Then I usually grate a LITTLE Monterey Jack Cheese on it, and serve (smaller guys get 1 to 1 1/2 tbs.)
Veggie Couscous
1 2/3 cup water
1 cup cous-cous
1 medium tomato (or a handful of cherry/grape tomatoes)
1 smonion (or 4-5 spring onions, if you prefer)
1/2 green pepper
1/2 sweet red pepper
1/2 cup corn (frozen or fresh off cob)
2 cloves garlic
1 1/2 teaspoon pepper
1 1/2 teaspoon basil, oregano, or Italian seasoning
1 1/2 teaspoon crushed red pepper
First, boil water.
When water boils, stir in cous-cous, cover, and *remove from heat*.
Allow to sit for five minutes.
While cous-cous soaks, dice tomatoes, onion, and peppers.
Combine with remaining ingredients and saute lightly (adding a little olive oil, if necessary).
When cous-cous has soaked up water, combine with veggies, stir, and serve to feathered friend according to size.
Freezes well and may be served hot or cold.
Veggie Macaroni
macaroni
mixed veggies
Cook any macaroni shapes 3 sm(dixie bathroom size) cups.
While cooking, add 2 'cups' frozen mixed vegetables.
Cook til done, drain, add 1/4 teaspoon margarine and a few shakes of parmesan cheese.
Let cool.
change macaroni shapes often.
Refrigerate leftovers for next meal.
Warm Veggie Food
1/2 cup split peas
1/2 cup lentils
1/2 cup long grain brown rice
1 package (16 oz) shoepeg corn
Boil these ingredients covered for 20 minutes, drain thoroughly.
Add 1/2 to 3/4 cups couscous, stir in and let sit covered 20 minutes.
This will cook couscous.
This is a crumbly mixture and good for birds who love their warm meal.
you can double it when you make it, then freeze it into portions of enough for about 3 or 4 days of feeding.
warm it in microwave, one portion at a time.