Budgie Pasta and Rice Recipes
Here are 25 great pasta and rice recipes for budgies.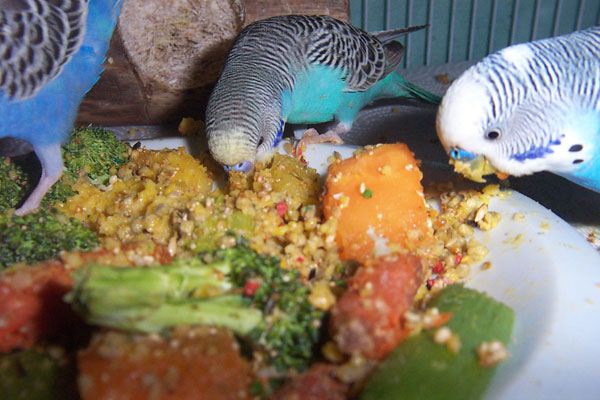 Apple Rice Suprise
2 cups cooked brown rice
1 cup soaked pellets
1 1/2 cups mixed veggies
handful of walnuts
1 apple, cored
Put apple, veggies and walnuts through food processor til finely chopped, then mix with rest.
Stuff mix into ice cube trays and freeze, then put cubes into zip-lock bags.
nuke cube for 30 seconds
Bird Shells
1 scoop seeds
2 eggs with shells
cooked large pasta shells
After cooking large pasta shells, scramble 2 eggs, shells and all, and cook in a coffee mug in microwave for 1 1/2 minutes.
Dump 'egg loaf' into a bowl and mash with a fork.
Stir in a scoop of bird's favorite seeds or treat.
Spoon 1 to 2 teaspoons of mix into each shell.
Serve to parrot as a treat.
You may refrigerate or freeze extra.
You may also substitute bird's favorite foods for filling.
Birdie Risotto
1 hard-boiled egg, sliced
3 cups rice, cooked
1/2 cup fruit, chopped
1/2 cup veggies, chopped
Mix all ingredients.
Pour into ice cube tray.
Defrost and serve as needed.
Birdy Brunch
1 cup frozen veggies
bag of minute rice
1 12 cups of noodles
2-3 eggs
Boil eggs boil for at least 30 min.
Boil rice as instructed on box.
Let noodles boil till soft.
Then cut up eggs, and put them in a bowl with rice, and noodles.
Then add veggies and stir.
Serve to birds and freeze remainder.
Cheese Veggie Pasta
1 cup frozen mixed vegetables
1 cup tri-colored macaroni
1/4 cup cottage cheese
cheddar cheese
crumbled whole wheat toast
Cook macaroni according to package directions.
Add 1 cup frozen mixed vegetables to pot.
Cook til done.
Drain and mix with cottage cheese.Sprinkle with grated cheddar and toast.
Cheesy Pasta Surprise
1 pound bag of sm elbow macaroni
1 small bag of frozen peas, drained
1 small bag of frozen whole kernel corn, drained
1/2-1 pound cheese, shredded or smcubes
1/4-1/2 cup sugar-free fruit juice
optional: sprouts, pellets…
Boil macaroni til done.
Drain and place back into pot.
Turn burner to medium-low heat and add cheese, stirring and folding gently til almost melted.
Add sugar-free fruit juice as needed during melting process for creamier texture and easier melting.
Add veggies and tuna and continue mixing til ingredients are heated and cheese is fully melted.
Take a small birdie sized portion for each of birds and place it in their bowls and let it cool before serving.
Classic Rice/Corn/Beans for Birds
1 cup cooked white rice
1 cup cooked brown rice
1 cup thawed frozen corn
1/4 cup dry kidney beans
1/4 cup dry split peas
1/4 cup dry navy beans
1/4 cup dry garbanzo beans
1/4 cup dry pinto beans
1/4 cup dry lentils
2 chopped carrots
1 teaspoon garlic, onion or chili powder
Rinse beans well and soak overnight in a large pot of water.
Drain, rinse, drain and rinse again.
Refill pot with water.
Add chopped carrots and cook with beans for 1 hour.
Add corn, rice and flavor powders.Heat thoroughly but don't let it get hot or colors will fade.
Cool and serve.
Freeze in ice cube trays for smaller birds, or plastic margarine tubs for larger ones.
Thaw as needed.
Remove from cage and dispose after 2 hours to prevent spoilage.
Frozen Pasta, Corn and Crushed Red Pepper
1 1/2 cup of frozen corn
1 cup of pasta cooked and drained well
1 tablespoon of oil
1/4 teaspoon crushed red pepper
Mix well and freeze.
Then feed frozen so its crunchy.
This will keep for a while because it's frozen.
Millet and Rice
1 part cup brown rice, cooked
1 part cup cooked hulled millet
1 part cup white rice, cooked
Soak millet in water for 20 minutes prior to cooking.
Mix together with rice and serve warmed.
Pasta Bean Couscous
1 (32 oz) bag 15 bean mix
1 cup Black Beans
1 cup Anasazi Beans
4 cups long grain brown rice (converted preferred)
1 cup couscous
2 cups Rottelle Vegetable pasta
2 cups Basil/ lemon pepper
pasta spirals
2 cups jalapeno red pepper pasta (ziti type, or whatever is available)
2 large jars of Gerber Vegetable Beef baby food
1 tablespoon Spirulina
3 tablespoon Palm oil
Soak beans overnight.
At least twelve hours.
Drain and rinse well.
Put into a large stock pot and cook 45-60 min or til al a dente.
Rinse lightly with cold water to stop cooking process.
Set aside.
Cook couscous in 1 1/2 cups of water for 5 minutes.
Fluff with fork.
Stir into bean mixture.
Cook Pasta til Al dente, drain into strainer, run under cold water, shake off excess water , add to bean mixture.
Cook rice til firm, add to mixture.
Stir in both jars of baby food, palm oil, spirulina.
Let cool and put into 1/2 cup serving size bags.
Freeze immediately.
Pasta Omelet
2 cups pasta
2 eggs
Cook pasta til soft in boiling water.
Mix eggs with a fork to scramble in smbowl.
Heat frying pan rubbed with butter on stove.
Fry eggs in pan.
When eggs start to cook, add pasta and fold over.
Continue cooking til eggs are cooked thoroughly.
When eggs are cooked, put on plate.
Sprinkle some seeds on bird's portion.
Pasta Pellet Surprise
Soak 1/2 cup Harrisons fine pellets in 1/2-3/4 cup warm orange juice til like a gruel.
To 4 cups cooked pasta (I use smelbow macaroni) add pellet gruel, some mashed sweet potato, slivered crushed almonds and any other vegetable(s) that appeal to birds fresh grated carrot, corn kernels, peas, etc.
Tablespoon of peanut butter optional.
Add 1 jar of fruit baby food (apple or any other flavor).
Mix should be moist.
Freeze in serving sizes.
Pasta With Birdie Sauce
Cooked Pasta
Smashed Cooked Carrots or Squash (sauce)
Bird's Food
Chopped Vegetables (not avocado)
Mix bird's food in with sauce and add chopped vegetables.
Heat on low flame, stirring frequently til bird's food softens.
Mix cooked pasta into sauce and stir til sauce and pasta are blended.
Take off oven and wait til cool to serve.
Peanut Butter Rice
1/2 cup of white or brown rice
1 cup of water
1/2 teaspoon of peanut butter
1 tablespoon of peanut butter (creamy or chunky)
1/2 teaspoon of honey (optional)
Cook rice in water til done.
Add peanut butter immediately after turning rice off, so that it melts and mix thoroughly.
Dribble honey into mixture and mix thoroughly.
sprinkle about 1/2 to 1 teaspoon of this rice over their food
Peeper Salad
fresh lettuce (romaine or leaf)
fresh spinach (uncooked)
1 finely chopped apple
1 finely chopped boiled egg
Combine these ingredients in a smtreat dish (shred lettuce and spinach) and mix well.
Serve as treats is smquantities.
Rice and Egg
1 cup of rice in 2 cups of water.
Microwave twice on high for 5 min.
Water should be pretty much gone then.
Add 2 eggs and mix.
Rice should have yellow tinge.
Microwave 2 min. 2 times.
Might have to add a little water as you don't want rice sticky.
Let cool to room temp.
Give as egg food about 3 times a week.
Freeze in plastic bags.
add corn or mixed vegetables and juice along with water.
Rice and Veggies
1 cup high protein baby cereal
1 tablespoon bird vitamin
2 cups cooked rice
4 cups cooked mixed veggies
Mix well.
Freeze in smfreezer bags.
Break off pieces as needed, heat, and serve.
Other items you can add are cooked macaroni, beans, raisins, or chopped figs.
Rice Surprise
2 cups of white rice
20-30 bite sized pieces of bird's favorite veggie treat
Boil rice til it sticky.
Wait about half an hour for it to cool enough to handle.
Fill a metal bowl with cold water and set off to side.
Chop veggies.
Once rice is cool enough to handle, take a smamount and flatten it in palm, place veggie treat in center, cover with more sticky rice.
Wet hands with cold water and roll into small, talon-sized balls, just big enough for bird to hold.
Repeat til rice is gone.
Makes between 20 and 30 balls, depending on size.
These can be frozen and re-heated in microwave as desired.
Rice-Fruit Balls
3 cups cooked rice
1 pound raisins
3 pound dried fruits
2 cups chopped mixed nuts (no salt)
Course chop ingredients in blender or food processor.
Roll into 1 inch balls.
Cover and refrigerate.
Birdie Spaghetti
1 (8oz) bag lemon/basil pasta
1 (8oz) bag red bell pepper pasta
chopped cilantro
1 cup chopped zucchini
1 cup sliced carrots
1/2 cup chopped spinach
fresh ripe tomatoes 8 (med size) Chopped
2 fresh jalapenos chopped
1/4 teaspoon garlic Powder
Cook pasta til firm but tender, remove pasta , put into colander, run under cool water.
Put above ingredients into pot of water used for pasta.
Cook for aprox.
2 minutes, drain.
Add ingredients together.
Serve immediately.
Freeze any unused portions in small freezer bags.
Sweet Rice Mash
2 bags brown rice
1 can carrot juice
1 can veggie baked beans (rinsed to remove excess sugar)
1 bag smshell pasta
Boil rice using carrot juice added to water til almost done.
Add in sweet potaoes and pasta (adding a little more water if needed just enough to keep from sticking you want it to fully absorb).
Stir often.
Add in rinsed baked beans, stir some more.
divide it up into several zip freezer bags and then take out what you need each day.
add in different fresh seasonal and frozen veggies, and some sprouted sunflower seed each day
Vegetable Salsa
1/4 cup each finely chopped Green, Red, and Yellow peppers
2 tablespoon finely chopped Jalapeno pepper
2 tablespoon finely chopped tomato
1 tablespoon finely grated carrot
2 tablespoon millet seed
3/4 teaspoon apple cider vinegar
Combine ingredients in a smbowl.
Stir til well mixed.
Serve cold or warm.
Ingredients may be added or subtracted depending on individual preferences.
Store in air-tight container in refrigerator for up to 2 weeks.
Veggie Macaroni
1/4 teaspoon margarine
2 cups mixed vegetables
3 cups macaroni
parmesan cheese
Cook macaroni and mix in vegetables.
After draining, mix in remaining ingredients.
Let cool.
Veggie Rice
2 cups brown minute rice (pre-cooked)
2 cups thawed frozen peas and carrots
2 eggs scrambled
1/2 cup celery chopped
1 1/2 cups of chopped leeks
1 cup chick peas (garbanzos)
1/2 cup pineapple chunks
3 tablespoon red palm oil
Precook ingredients and then blend together.
Garbanzo beans must be soaked over night, and then cooked til firm yet tender.
Add spices of choice (for example: cinnamon).