Budgie Pudding and Custard Recipes
Here are 7 great pudding and custard recipes for budgies.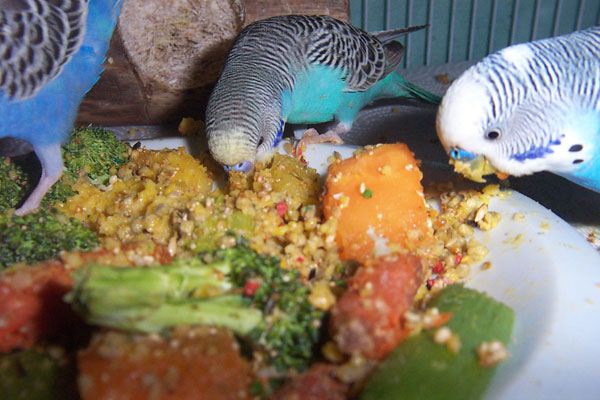 Birdie Frozen Yogurt
1 cup fruit, mashed or one jar of fruit baby food
2 tablespoons honey
2 tablespoons peanut butter
vanilla yogurt
Mix all ingredients.
Freeze in ice cube trays.
Pudding
2 cups fine yellow cornmeal
1 jar babyfood sweet potatoes
1 jar babyfood applesauce
1 carrot, grated
1/2 cup fruit flavored pellets
3-4 cups boiling water
Bring water to a boil.
Gradually add cornmeal and stir til pudding starts to thicken.
Add pellets, small jars of babyfood and return to a boil.
If mixture is too watery, add more cornmeal.
Serve warm to birds.
Refrigerate for 3-4 days or freeze leftovers.
Pumpkin Custard
1 cup sugar-free fruit juice
1/2 cup raisins
2 cups canned pumpkin
2 teaspoons cinnamon
3 tablespoons honey
4 eggs, beaten
Mix ingredients.
Add raisins last.
Butter casserole dish and pour in ingredients.
Bake 1 hour or until casserole sets at 350.
When knife comes out clean, custard is done.
Razzle Dazzle Grain Pudding
3 cup apple juice
1/4 cup oat groats
1/2 cup quinoa
1/2 cup millet
1/4 cup Raisins (optional)
1/4 cup almonds, chopped
1/4 teaspoons cinnamon
Place ingredients in a pot.
Cover and bring to a boil.
Reduce heat and simmer for 30 minutes or til cereal is creamy.
Toward end of cooking time, stir occasionally to prevent scorching.
Sunshine Surprise Jello
1 box any type sugar-free jello
assorted fruits (dried or fresh)
Seed (any type bird prefers)
Zupreem fruit pellets
Follow directions on box for jello.
Put in refrig for about one hour.
Cube fruits and add remaining ingredients to jello.
Stir.
Return to refrig.
and allow to finish setting up.
Serve one spoonful a day to tiel or budgie and be sure to take it away after about an hour.
Jello is more prone to bacteria and should not be left in cage day.
Tropical Rice Pudding
1 cup brown rice
1-1/2 cup rolled or cracked corn
1/2 cup unsulphured dried banana
3-1/2 T split green peas
2-1/2 T raisins
2-1/2 T pistachio nuts (unsalted)
1 T dates broken in pieces
1 teaspoon dried sugar-free fruit juice powder
1/4 teaspoon allspice
Add contents to 1 quart water.
Bring to boil, lower heat, cover and boil gently for 30 minutes.
Serve warm or cool.
Yields 2 lbs.
Approx. 1-1/2 quarts.
You can make batches weekly or monthly depending how many birds you have.
Keep a 3-day supply in fridge to reheat in microwave (avoid hot spots) Serve no more than can be consumed in 5 hours to avoid spoilage.
In hot weather, be careful not to leave it in cage for any more than 2 hours, unless you have air conditioning.
My own added observation after feeding it to My African Grey and My Senegal is that they eat it within 2 hours.
I also freeze recipe in ice cube trays, then I put frozen cubes in baggies in freezer.
They will keep for a month.
Vanilla Custard for Birds
2 cups sugar-free fruit juice
2 large eggs, beaten
3 tablespoons honey
Hot water
Place sugar-free fruit juice and honey in a bowl and beat well.
Add eggs and mix well.
Pour into smcustard cups.
Place cups on a rack in a baking pan with about 1 inch of hot water on bottom of pan.
Bake at 325 degrees 30 to 45 minutes.
Insert knife near edge of a cup.
If it comes out clean, custard is done.
Cool before serving and refrigerate leftovers.